There are many must-have office amenities, especially if you are looking for ways to improve your working environment. You might want to consider investing in commercial water filtration for your office. Office water purification systems offer a cost-effective means of providing a nearly unlimited supply of clean drinking water to your office staff.
There are several different commercial water treatment systems available, including bottle-less water coolers and commercial reverse osmosis systems. Understanding the advantages of these systems, as well as how they stack up against alternatives like bottled water delivery, can help your organization find the filtered water solution that is right for you.
Why Invest in a Commercial Water Filter System?
Executives and consultants have worked hard over the years to create the image of the modern office as an extension of one's own home. With things like flexible furniture, open designs, and seamless technological integration, the office is increasingly a collaborative space where creativity and productivity are enhanced by the environment itself. So, it is a no brainer that there are added benefits of an office water cooler and incorporating other filtration options into the office. 
This effort extends to the food we eat and the water we drink. Tap water from a faucet can be full of contaminants, chemicals, and other products that aren't the best to ingest. Companies that are looking for ways to improve their work environment have cast an eye towards building a collection of healthy and convenient food choices and ensuring that their employees have easy access to clean, filtered water.
Offering clean, filtered water is an effective way for employers to fulfill a straightforward need for their staff. By proactively making clean drinking water available, you'll improve the health of your staff. Dehydration can reduce a person's ability to concentrate and think clearly. By ensuring that your staff has convenient access to clean water, you'll also improve productivity.
Lastly, investing in a commercial water filter system is an environmentally friendly and cost-effective solution for providing clean drinking water to your staff. You'll reduce waste stemming from bottled water, while also saving your organization money in the long run.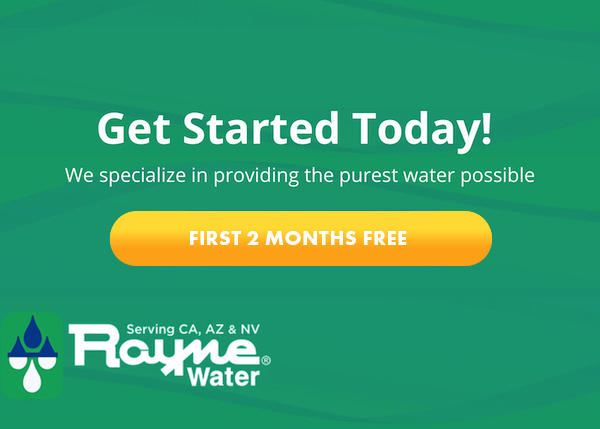 Options for Providing Clean Drinking Water
Providing clean drinking water to your entire office isn't necessarily difficult, but it is important to understand what your options are so that you can find the appropriate solution for your needs. The two most common methods for providing drinking water to your office are by installing a commercial water filter system or using a bottled water delivery service. 
Let's take a look at the core benefits and drawbacks of these solutions.
Water Purification Systems
Commercial water purification systems are the most comprehensive and cost-effective solution for providing clean drinking water to your employees. There are many different types of commercial water filter systems. The two most popular options are bottle-less water coolers and reverse osmosis systems. Each of these systems has advantages that make them appropriate for different applications.
When taken together, commercial water purification systems represent more of an initial investment than alternatives like bottled water delivery services. But, that investment results in lower ongoing costs over time. Some water purification systems do require some degree of maintenance, which may be provided by a service provider like Rayne. Typically this involves changing filtration media, but certain solutions like bottle-less water coolers don't require this.
Bottled Water Delivery Service
Many offices rely on a bottled water delivery service for drinking water. These services involve a contract with a water provider who delivers bottled water at regular, agreed-upon intervals. The amount of water delivered usually depends on your specific needs and is typically delivered in 5-gallon bottles.
The systems used by bottled water delivery services are either bottom-loading or top-loading, meaning the bottle of water is either loaded into the bottom or top of the system. This brings us to the first disadvantage of these systems, which is that the 5-gallon bottle of water weighs around 42 lbs, which makes loading the system difficult for many people. 
Storage is also a concern, particularly in small offices or in work environments with many employees. If you have 50 gallons, or ten bottles, delivered every week, you'll have to have a place to store those ten bottles. 
The biggest disadvantage of bottled water delivery services is that they are relatively expensive when compared to using a commercial water filtration system. Using one of these services will result in costs for water, deposits for the bottles themselves, and a rental fee for the cooler.
What Types of Commercial Water Filter Systems Are There?
Understanding what types of commercial water filter systems can help you get a sense of what type of system might work best for you. There are different types of water filtration systems, each using one or more filtration methods. The three most common filtration methods are reverse osmosis, filtration through charcoal media, or ion exchange systems. 
The two most common types of commercial water filtration systems are bottle-less coolers and commercial reverse osmosis systems. Which system is right for you will depend largely upon your needs.
Bottle-less Coolers
Bottle-less coolers come in a familiar form-factor that is similar to the types of coolers that provide water from a 5-gallon bottle. Unlike those systems, bottle-less coolers provide filtration on the spot. The standard bottle-less cooler can provide both hot and cold water, while tri-temp coolers can provide hot, cold, and room temperature water.
Bottle-less coolers utilize both reverse osmosis filtration and multi-stage carbon filtration. Reverse osmosis captures almost all of the dissolved solids in the water, while the multi-stage carbon filter captures the chemicals that are used to treat water, such as chlorine, as well as the odors that give tap water a bad taste.
The combination of both filtration methods ensures that the water coming out of your bottle-less cooler is always clean and fresh tasting. At the same time, bottle-less coolers can provide a nearly limitless supply of filtered water. This makes them ideal for busy office spaces. 
When compared to bottled water delivery service, a bottle-less cooler takes up much less space. With a bottle-less cooler, you won't have to worry about where to store your many full bottles, and where to stage your empty bottles until they can be picked up. Lastly, with a bottle-less cooler system, you won't have to worry about loading heavy water bottles into the system, making on-demand drinking water easier to access for everyone in your office.
Commercial Reverse Osmosis Solutions
Commercial reverse osmosis filtration systems offer an alternative to bottle-less coolers. While bottle-less coolers are great for fitting into a small area and providing easy access to hot or cold water, they aren't ideal for providing large quantities of filtered water to multiple delivery points. For that type of application, you will probably want to look towards a point-of-entry (POE) solution that filters water as it comes into your building like a commercial reverse osmosis system.
Commercial reverse osmosis systems can vary in size and how much water they deliver. Smaller point-of-use (POU) systems that fit under a single sink can deliver anywhere up to 75 gallons-per-day (GPD) of filtered water. An example of this would be our Rayne Eradicator RO System, which is used to provide 36, 50 or 75 GPD of drinking water and is small enough to be installed under a sink.
The next step up would be a system like our Rayne Compact RO, which is capable of providing between 150 – 800 GPD of drinking water. For even larger applications, the Rayne Frame Mount Verticle RO is a POE solution capable of providing up to 10,800 GPD in certain configurations.
Some of these larger commercial reverse osmosis systems are better suited for commercial applications like foodservice, a car wash, or an agricultural setting than your typical office building. However, they may be right for you depending on what contaminants are in your water and how much filtered water you need each day.
Final Thoughts
Your office needs a commercial water filter system because it is the most cost-effective, long-term solution for providing clean, filtered water to your employees. Access to clean, filtered water is a top amenity that today's businesses can offer their employees that is both cost-effective and beneficial for health and productivity.
When compared to other options for providing clean drinking water for your employees, office water purification systems can do so at less cost and with less hassle. Compared to water delivery services, filtration systems provide clean drinking water that is cheaper and without the need to load heavy 5-gallon water bottles.
Other drinking water solutions, like bottled water delivery, take up more space. You'll need to store your full bottles near your dispenser, and store empty bottles until they can be picked up and replaced. In contrast, filtration systems like the Rayne Tri-Temp Bottle-less Cooler take up less room, can provide hot, cold, or room-temperature water, and can provide a nearly limitless supply of filtered drinking water. 
If a bottle-less cooler doesn't suit your needs, you might consider a commercial reverse osmosis system. Reverse osmosis systems vary in size depending on their application and your needs. Smaller systems can be installed under your sink and provide up to 75 gallons of drinking water each day, while larger systems are available that can provide up to 10,800 gallons of filtered water every day.
The first step to determining which type of system is right for you is to contact our water specialists at Rayne. For instance, we can determine if offices needs a commercial water softener or cooler. Our helpful staff can outline the options available to you, help you weigh the advantages and disadvantages of each, and guide you towards the solution that is ideal for your needs. To learn more about commercial water filter systems, please contact Rayne today.

Sources: