Can the COVID-19 Virus Spread Through Drinking Water
*Reviewed by Ken Christopher, Senior Vice President at Rayne Dealership Corporation
The current COVID-19 public health emergency is an unprecedented event in anyone's living memory that has disrupted daily lives, slowed the economy, and forced Americans living under stay-at-home orders to shelter indoors. 
Though social distancing measures appear to be having an effect on the growth of the pandemic, with cases in the United States topping 1 million and over 50,000 deaths currently according to the New York Times, the COVID-19 pandemic appears to be a problem that will remain with us for the foreseeable future.
The novel coronavirus, known as SARS-CoV-2, has demonstrated a remarkably high rate of transmissibility. The effects of the disease it causes, known as COVID-19, have proven to be equally devastating. As we have all adapted to living in a world where the surfaces we touch and the people we come into contact with pose a potential threat, many people have begun to reexamine the things around us that have the potential to carry and transmit the coronavirus.
Let's take a closer look at whether SARS-CoV-2, the virus that causes COVID-19, can be transmitted through drinking water.
Can the Coronavirus Spread Through Tap Water?
According to guidance from the Center for Disease Control (CDC), SARS-CoV-2 has not been detected in drinking water. Current guidance by the CDC, the Environmental Protection Agency (EPA), and the World Health Organization (WHO), indicates that water supplied by municipal water suppliers remains safe to drink.
While much remains unknown about the virus, current guidance suggests that traditional water treatment processes used by municipal water suppliers are effective at either removing or inactivating the virus that causes COVID-19. 
Standard drinking water treatment processes, such as adding chlorine to municipal water or treating it with ultraviolet light, appear to be effective at neutralizing the coronavirus. This makes sense, given that these treatment processes are used to neutralize other more common viruses that cause outbreaks in drinking water systems. These include Hepatitis A, Norovirus, and Rotavirus.
What Can I Do If I'm Still Concerned?
It is understandable during this difficult time to seek out additional ways to protect the health of yourself, your family, and by extension your community. While current CDC guidance suggests that the risk of contracting COVID-19 through tap water is low provided proper water treatment occurs if you wish to further limit your risk there are viable home water treatment options.
The most effective water treatment option against viruses is reverse osmosis. Reverse osmosis systems force water through a specialized membrane containing very small pores. Those pores allow water molecules to move through, but keep larger contaminants out. Reverse osmosis systems are highly effective at removing viruses, as well as a wide range of other contaminants. These systems are small enough to be installed under your sink, yet powerful enough to provide tens of gallons of fresh, clean drinking water for you and your family each day.
Reverse osmosis drinking water filtration systems are a great option for individuals, families, and businesses that are seeking extra protection against any unexpected rise in contaminants in their drinking water. Though the risk from contracting COVID-19 from treated municipal water supplies is thought to be low, there is a wide range of other contaminants that pose a health risk that reverse osmosis systems are also effective at removing. This makes reverse osmosis systems a great choice if you're looking for on-demand filtered drinking water at your tap.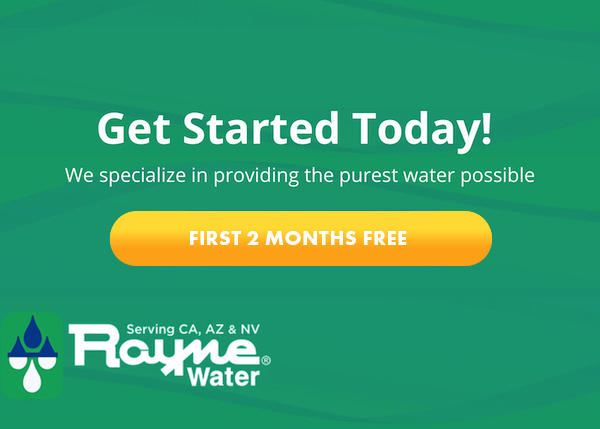 Closing Thoughts
Guidance from the CDC, WHO, and EPA remains clear that the risk of contracting COVID-19 from tap water is very unlikely. However, to stay cautious, community water suppliers use treatment methods that remove or inactivate viruses. These treatment methods, including chlorine and ultraviolet light, are also believed to be effective against SARS-CoV-2.
If you remain concerned about the quality of your water, our experts at Rayne Water are here to help. We carry many great water treatment systems that can provide you with clean, filtered water at your tap. We'll consult with you to listen to your concerns about water, then make targeted recommendations for the best systems that meet your needs.
Ready to learn more about water treatment options for your home or business? Schedule a virtual demo of our products today, so that you can learn about great water treatment systems for your home or business, all from the comfort and safety of your own home.

Sources: