How Much Does Bottled Water Cost Your Household
*Reviewed by Ken Christopher, Senior Vice President at Rayne Dealership Corporation
During the economic uncertainty surrounding the current pandemic, many people are looking for ways to cut their monthly expenses. One of the ways to do this is by looking at how much they are spending on their drinking water each month. If you've been asking yourself, "how much does bottled water cost?", you may be surprised by the answer.
How Much Does a Gallon of Bottled Water Cost
?
According to the International Bottled Water Association (IBWA), the average price per gallon of bottled water was $1.11 in 2016, the most recent year published. That's about $405.15 a year. This number may sound lower than what you pay for a 16oz bottled water, even if you buy it in bulk at the grocery store. That's because it includes bottled water from all sources, including a 5-gallon water delivery service, and it's a nationwide average.
Other estimates for how much is a bottle of water, or how much is a case of water, vary greatly due to regional variations, as well as price variations between brands and retailers. A survey of popular brands sold on Amazon done by The Balance found that the average cost of a 16.9-ounce plastic water bottle was around $0.70, which is $1,022 a year if you drink 4 water bottles a day.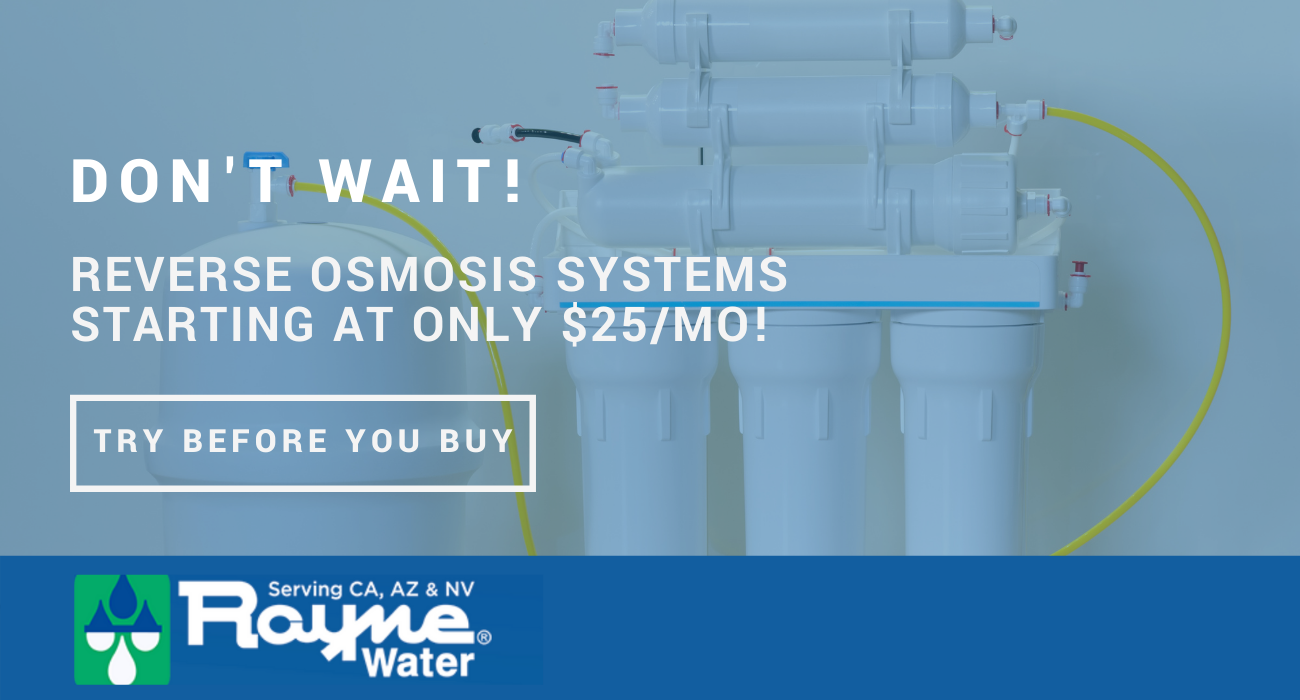 How Much is a Gallon of Tap Water?
The cost of bottled water may sound small, but let's consider how inexpensive a gallon of tap water is. The Environmental Protection Agency (EPA) found that in 2016 the average cost of 1,000 gallons of tap water from a municipal supplier was $3.38. 
The one issue is, tap water is not nearly as great as the pristine results of filtered water in a water bottle. What's the easy fix for this? A reverse osmosis filtration system. An RO filter can produce 30 gallons a day of clean, purified water that's freshly ready for you to drink at the ease of your sink. Giving you drinking water at the inexpensive cost of tap water but great quality like bottled water (if not better).
Average Annual Bottled Water Cost
Let's take a moment to add up how much bottled water would cost throughout the year, since that tends to provide a clearer picture of the total costs of drinking water. Here we're going to assume that the average male requires 100 ounces of drinking water per day, and the average female requires 73 ounces per day. We'll also assume that they are getting all of that water from bottled water.
If bottled water is about $0.04 per ounce, the average person would spend about $3.50 each day and $1,460 annually. 
There's a large gap between these two estimates, and most people's bottled water costs probably fall somewhere between them. What is important to note is how quickly the cost of bottled water adds up, even if it may seem like a value relative to other brands of bottled water.
Determining Your Own Water Costs
The most accurate way to determine how much your household is spending on bottled water. First add the total cost of your bottled water for a week, then multiply it by 52. That will give you the best idea of how much bottled water is costing your household.
Cutting Your Drinking Water Costs
The most effective way to cut down how much you are spending on drinking water is to eliminate bottled water entirely. Installing a drinking water filtration system, such as a reverse-osmosis system under your sink, offers the ability to have gallons of on-demand drinking water at a fraction of the cost of bottled water.
The fact is, much of the bottled water sold today is actually municipal water that has undergone some type of additional treatment. You can do the same thing at a fraction of the cost with a reverse osmosis system. RO systems remove contaminants and impurities that cause your water to have a poor taste and odor, as well as contaminants that may pose a health risk.
Installing your own drinking water filtration system gives you greater control over how your water is treated, while significantly lowering the cost of your drinking water. Plus with a reverse osmosis filtration system, it's clean and purified water guaranteed.
The cost breakdown of a reverse osmosis filtration system is $25/mo, which is .0002 cents per oz (since an RO system produces 30 gallons a day) compared to .04 cents per oz like a bottle of water (that's 200x cheaper!).
Closing Thoughts
While many people prefer the taste of bottled water over tap water, what they may not realize is that their bottled water comes at a premium hundreds or even thousands of times higher than the equivalent cost of tap water. Daily consumption of tap water as the primary drinking water source costs around $1.00 for males and slightly less for females on average throughout the United States. In contrast, even the lowest estimates for the average cost of bottled water make it hundreds of times more expensive. Also, the water cost compares small to the environmental impact of plastic waste from bottled water consumption.
Save Costs on Water: Install a Water Filtration System in Your Home 
If you are looking for a way to cut costs but still have a great drinking water taste, consider installing a Rayne Water filtration system. Our drinking water filtration system uses the process of reverse osmosis to provide you with the best water supply. It'll be a nice walk to your kitchen sink where you can fill your reusable water bottle with premium filtered tap water and not worry about wasting plastic or costing your wallet.
Please contact us today so that one of our water quality experts can help you find the best water system treatment option for your home or business.

Sources:
https://www.consumerreports.org/bottled-water/how-coke-and-pepsi-make-millions-from-bottling-tap-water-as-residents-face-shutoffs/