How Much Do Water Filters Cost
One of the first questions most people have about water filters is "how much do water filters cost?" Water filters provide many benefits, but they do require an initial investment to get up and running. Understanding how much do water filter costs, as well as the benefits they offer, can help you make an informed decision about whether a water filtration system is right for you.
Water Filter Cost Breakdown
Water filter costs vary based on a number of factors. A few of these factors include which of the types of water filters you are planning on installing and how much modification to your existing plumbing is necessary to install your desired system. Additionally, most water filtration systems have some type of ongoing maintenance that should be factored into the total cost as well.
Type of System
Water filtration systems come in all different shapes, sizes, and costs. There are two broad categories of filtration systems, and then many different types of systems within those categories. 
Water purification systems can generally be considered either point-of-use (POU) systems or point-of-entry (POE) systems. POU systems tend to have a smaller footprint and are used to provide filtered drinking water at a specific tap or location. POE systems are used to provide filtered water to your entire house.
Due to the fact that POE systems tend to have a higher output they are typically larger than POU systems. They may include a larger amount of filtration media as well. The size, complexity, and rated output of these reverse osmosis systems are all factors that contribute to the overall system cost.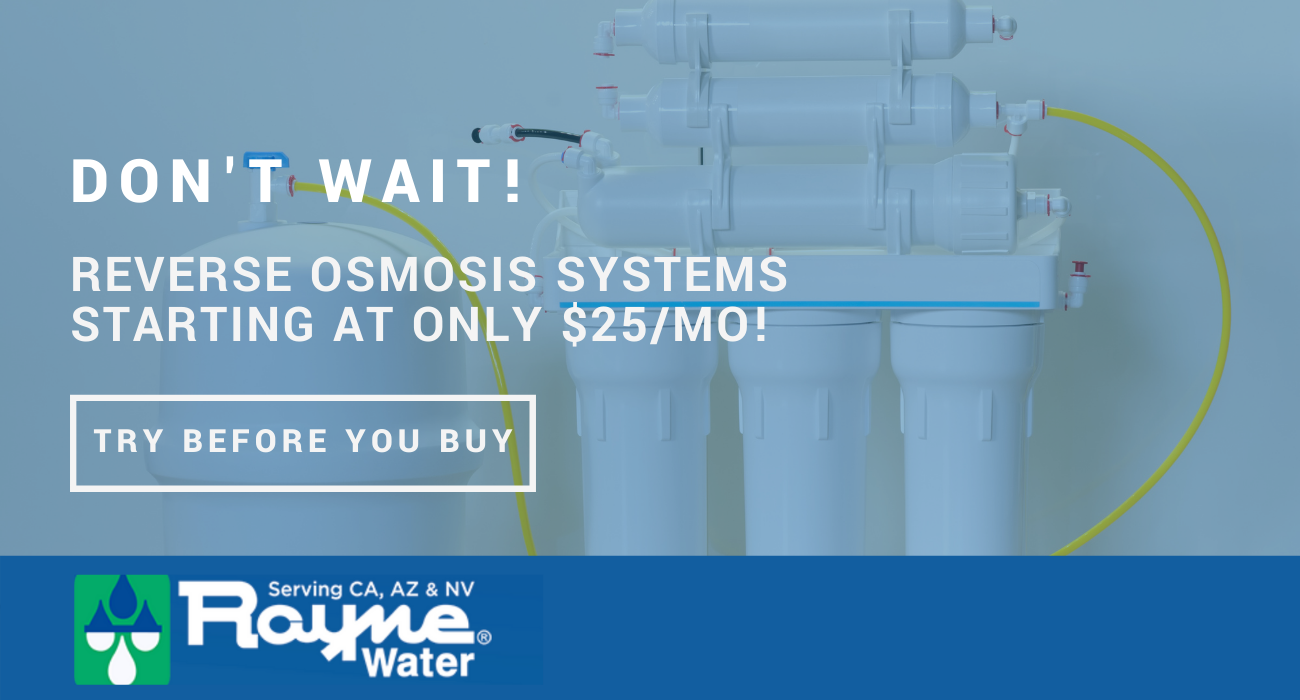 Complexity of Installation
It is also worth factoring in how to install a water filter. If extensive reworking of your existing plumbing system is required it may increase the cost, particularly if you are using a plumber or planning on doing it yourself. We recommend having Rayne systems installed by a Rayne technician who is familiar with the system and can help the installation go seamlessly. 
Usually, the installation of water filtration systems is fairly straightforward. POE systems are installed at the main water supply entering your home and after the water meter, whereas POU systems tend to be installed either under a sink faucet or near where they are intended to deliver water. Neither should require extensive plumbing, but sometimes installation can be tricky due to space constraints.
Ongoing Expenses
You should also take into consideration any ongoing costs for your water filtration system. Many reverse osmosis systems will require you to periodically replace the filtration media in the system so that it can continue to operate at peak performance. 
How often you have to replace filters in your filtration system will depend on the type of system you are using and what type of house water filtration media it contains. Before installing your system, be sure to gain a full understanding of how often you need to replace the water filters and how much each of them costs.
As an example, many reverse osmosis filtration systems contain at least three different types of filtration media. They contain a pre-filter that removes any large particles and sediment, a semipermeable membrane that filters out the majority of contaminants, and an activated carbon filter that removes chemicals such as chlorine and disinfectants that cause tap water to have a bad taste and odor. Understanding the water filters reverse osmosis cost and filter replacement schedule can help you accurately assess how much your house water filter system will cost over time.
Final Thoughts
Although it is impossible to provide a comprehensive breakdown of how much reverse osmosis filters cost, there are a few key factors that can influence the cost of RO systems. The first is the size and complexity of your system. If your system is meant to provide filtered water to your entire house, in general, it will cost more than a system that is designed to provide clean water at a specific tap. No matter which you choose, it's guaranteed that your water supply will be clean and rid of any bad taste and odor.
Larger point-of-entry systems may also have a more complex installation, although this is not always the case. Sometimes space constraints can make the installation of a smaller point-of-use system tricky. If you are using a plumber to install your house water filtration system you should factor that cost into the total cost of the system as well. However, we recommend having a Rayne technician install our filtration systems. Our familiarity with our systems helps ensure that the installation goes quickly and smoothly, delivering you fresh filtered water in less time.
Lastly, include the ongoing costs of system maintenance as well. Many water filtration systems will require periodic maintenance to keep them operating at peak performance. Take the time to understand the maintenance schedule for your system and the cost of any replacement filters. This will give you a more accurate picture of the total cost of your water purification system.
The best way to get an accurate idea of the cost of a clean water filtration system is to request a quote. Please contact Rayne Water today, so that our water experts can outline the RO systems we offer and provide you with a comprehensive quote for a water filtering system.

Sources:
https://www.homeadvisor.com/cost/environmental-safety/install-a-water-treatment-and-purification-system/