What is the Water Hardness Level In Scottsdale?
Scottsdale City, Arizona is home to more than 250,000 people who get their drinking supplies from a combination of surface water, groundwater, and recycled water.

In this desert city, it varies depending on where you live, but water is typically classified as very hard according to the measurements of the US Department of Interior. That is why you see plenty of types of water softener filtration systems.

Water hardness level is defined by how much calcium carbonate (a mineral) is in the water content. The higher the calcium carbonate amount, the harder the water. Anything higher than 7 grains per gallon is classified as "very hard."

Specifically, these areas of Scottsdale, Arizona have the following hardness levels:
South of Indian School Road

– 370-430 mg/L or ppm

Indian School Road to Chaparral Road

– 340-370 mg/L or ppm

North of Chaparral Road

– 275-300 mg/L or ppm



While water hardness isn't regarded as a health concern, some people prefer to drink and use water that does not contain large amounts of dissolved calcium and magnesium. Finding a water softener system in Scottsdale can help.
In this brief guide we'll detail Scottsdale water hardness, explain what water hardness is, outline tips and tricks for dealing with hard water, and look into how you can soften your home drinking water with water softeners. Read on. 
Scottsdale Water Hardness 
Scottsdale does not treat its public water supply for hardness. This is because, according to the City of Scottsdale, being able to provide the cleanest, safest—and most affordable—water to Scottsdale citizens is possible without adding water hardness treatment processes to their current treatment plan. If water hardness treatments were added, water access would not be as cost-effective. 
So, why is their tap water hard in the first place and is Scottsdale water safe to drink? 
What is Water Hardness? 
Water hardness is simply the amount of dissolved minerals present in your water—hard water is high in dissolved minerals. 
Hard water can leave a film of residue on your hands or body after washing, and when washing clothes, dishes, and even your hair with hard water, you may need more soap or detergent to get things clean. Minerals that you can find in hard water originate from the soils that source water (most often groundwater) comes into contact with as it travels through watersheds and into water treatment plants. 
According to the City of Scottsdale, approximately 80 percent of the U.S. has hard water, and high hard water levels are extremely prevalent in the southwest. This is due to low rainfall, hot weather, and high mineral content in the soil. 
Is Hard Water Safe?
Drinking hard water will not affect your health in any way, it's more of a nuisance than anything. In fact, the same minerals, calcium and magnesium, that leave a filmy residue on your dishes are minerals that are crucial nutrients for human health.
Calcium helps to build strong bones and teeth while magnesium is absorbed through the stomach and helps in the maintenance of blood pressure and metabolism.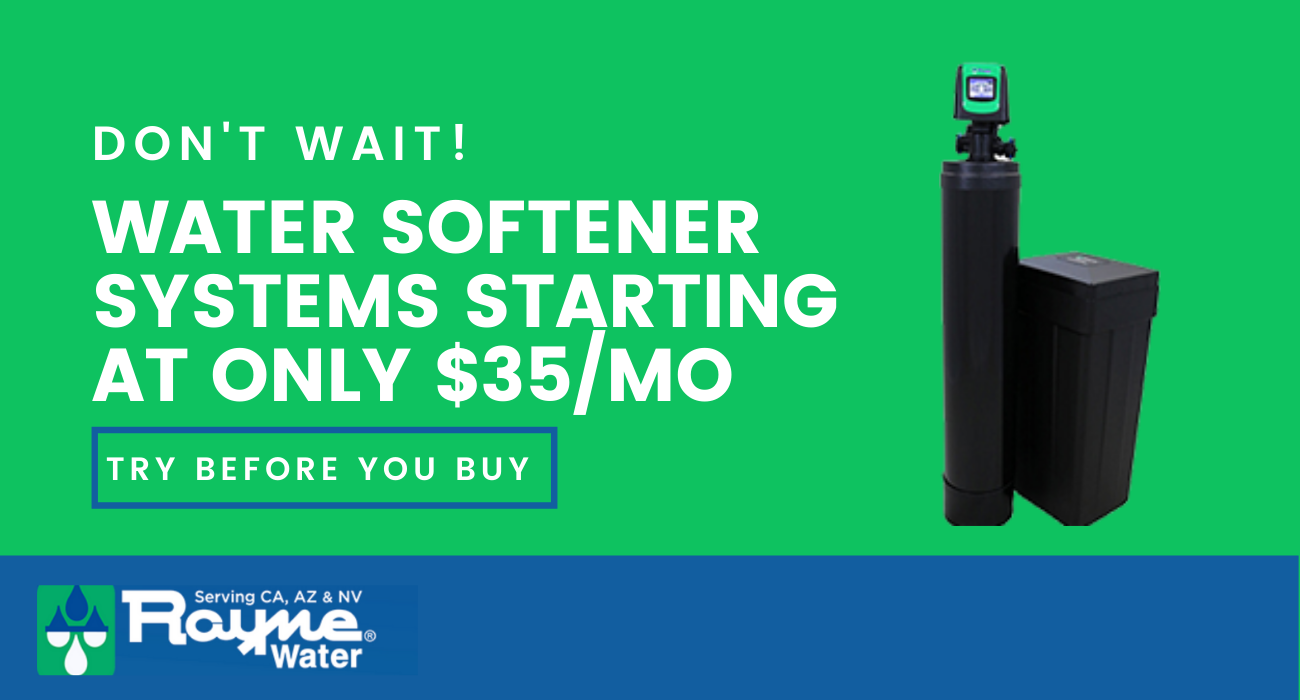 How to Treat Hard Water 
Scottsdale City has a few low-cost tips to help you deal with the aesthetic issues caused by your hard water supply. 
These include:
Run a cup of white vinegar through the coffee maker and dishwasher every few months.




Use a rinse aid in your dishwasher.




Set your water heater to 120-125 degrees.




Soak showerheads and faucet aerators in white vinegar to loosen mineral deposit buildup.




Spray fixtures that are commonly exposed to

water with lemon juice and wipe with a soft cloth
Maybe these tips sound like too much work and you want to permanently eradicate your hard water issues. Or, perhaps you're getting plenty of calcium and magnesium from other sources and want to filter out some of the minerals that are causing your water to be hard.  
Lucky for you, there's an easy, affordable way to soften your at-home water supply with the installation of a home water softener  system or drinking water systems. 
Install a Water Softener From Rayne Water Today  
Soft water has a low concentration of hard minerals. To turn your hard water soft, consider investing in a home water softening system, which removes the mineral ions through a process called ion exchange. 
This process involves exchanging positively charged mineral ions (found in hard water) with positively charged ions, leaving your soft water free of minerals.
Rayne Water Conditioning specializes in different types of water softener systems and other types of water treatment systems, like the reverse osmosis system. We have been servicing the denizens of California, Arizona, and Nevada since 1928. Rayne has 24/hour on-call veteran technicians available to address any water softener issues you have at any time. 
Our team of water care professionals offer extensive expertise as well as six different water softener systems to choose from. When you can select from a variety of water softener systems and filtration systems, (including everything from a basic model to a Guardian Elite model specifically designed for larger homes) you can find the solution that's best for you.
Ready to soften your hard water supply? Whether you need Phoenix water softener solutions or treatment system installation in Scottsdale, we got you covered. Call your local Rayne Water office today. 

Sources: 
City of Scottsdale. Drinking Water. https://www.scottsdaleaz.gov/water/drinking-water 
City of Scottsdale. Hard Water Facts. https://www.scottsdaleaz.gov/Assets/ScottsdaleAZ/Water/Water+Quality/hard-water-fact-sheet.pdf 
Rayne Water. Residential Whole House Water Softener Systems.  https://www.raynewater.com/residential_category/water-softeners/ 
Scottsdale Water. 2019 Water Quality Report. https://www.scottsdaleaz.gov/Assets/ScottsdaleAZ/Water/Water+Quality/2019+Water+Quality+Report.pdf 
U.S. Geological Survey. Hardness of Water. https://www.usgs.gov/special-topic/water-science-school/science/hardness-water?qt-science_center_objects=0#qt-science_center_objects